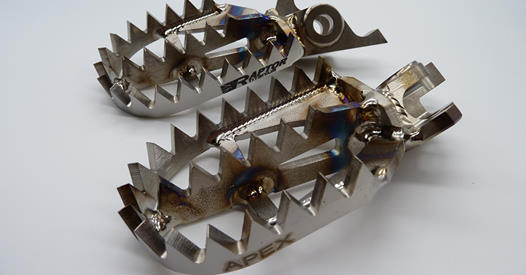 For all you KXF riders out there, get a mega-deal on RX006 KXF Apex footpegs on our Ebay shop while stocks last.
10% off for a limited time only.
Used by Dixon Racing and Kawasaki Factory teams.
2020 riders Clement Desalle and Romain Febvre.
RAPTOR TITANIUM 2020 APEX MX FOOTPEGS KAWASAKI 10% OFF | eBay
Founded in 2001, Raptor has led the way for almost two decades in high quality, world-leading design and ultra-'trick' factory aesthetic.
Celebrating 20 Years At The Top Of The S…
Brand new design!
Developed in collaboration with OEM manufacturers and factory motocross and supercross teams
Superior strength. Crafted by British engineers using hand-fabricated, aerospace-grade 6Al-4V titanium and the latest manufacturing techniques to produce the strongest welds, eliminating stress and corrosion
CNC-machined back-end for precision fit
Ultra lightweight
Hand-fabricated and machined in the UK by Raptor Titanium
FREE set of compatible stainless steel springs included
Guaranteed for two years
Customisable
Join the thousands of top-level riders who trust in our brand and British-made quality products